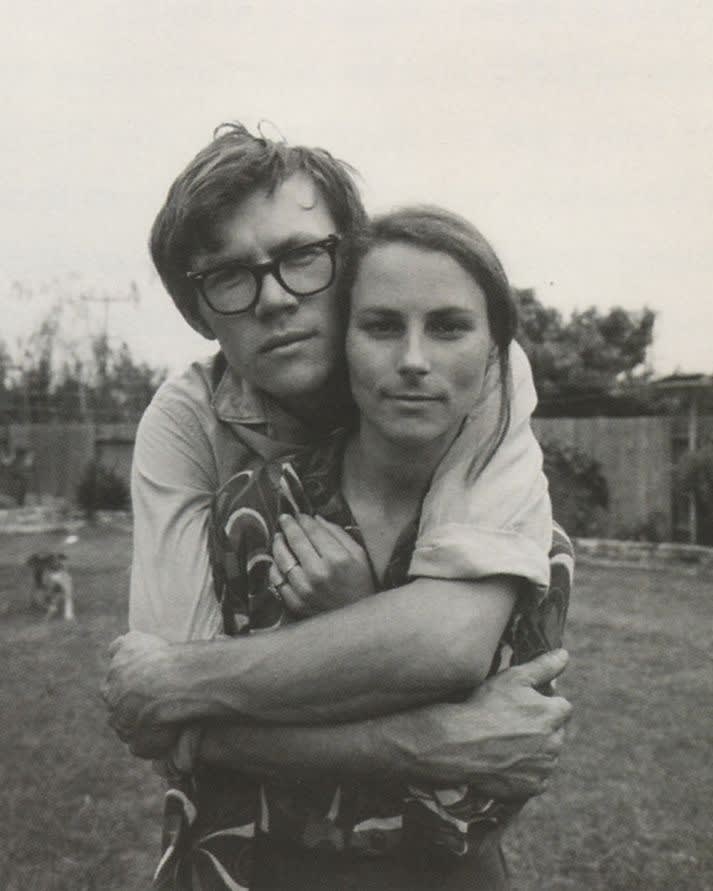 Emmet Gowin was born in Danville, Virginia in 1941. He obtained his BFA in graphic design from the Richmond Professional Institute (now Virginia Commonwealth University) in 1965 and an MFA in photography from the Rhode Island School of Design (RISD) in 1967. While at RISD, Gowin studied with Harry Callahan (1912-1999), who became a mentor and important influence on his work. Gowin also developed a friendship with Frederic Sommer, (1905-1999) whose ideas and work also affected him deeply.
Following his marriage to Edith Morris in 1964, Gowin began making photographs of Edith, his sons Elijah and Isaac, and Edith's extended family in Danville, intimate portrayals of the small rituals of everyday life. During the 1970s, he began to make landscape photographs and since the mid-1980s, he has explored the use of aerial photography to document the impact of human intervention in the environment. Some of the issues addressed in this work include the impact of center pivot irrigation used in industrial-scale agriculture of the Great Plains; the effect of weapons testing on the environment near the Yucca Flats nuclear test site; and the impact of military occupation on Kuwait after the first Gulf War. For the past several years, he has been engaged in photographing over a thousand species of nocturnal moths in Bolivia, Brazil, Ecuador, French Guiana, and Panama for the project, as well as experimenting with a variety of photographic processes, such as salt paper prints.
Over the course of his career, Emmet Gowin has received numerous awards and grants, including a Guggenheim Fellowship (1974), two National Endowment for the Arts Fellowships (1977, 1979), the Governor's Award for Excellence in the Arts from the State of Pennsylvania (1983), the Friends of Photography Peer Award (1992), and a Pew Fellowship in the Arts (1993). In 1997, Gowin was honored with the President's Award for Distinguished Teaching at Princeton University, where he taught from 1973 until his retirement in 2010.
His work has been the subject of several monographs and scholarly publications, including Emmet Gowin/Photographs (1976); Emmet Gowin: Photographs, 1966-1983, (1983); Emmet Gowin/Photographs: This Vegetable Earth Is But A Shadow (1990); Emmet Gowin: Aerial Photographs (1998); Emmet Gowin: Changing the Earth (2002); Mariposas Nocturnas – Edith in Panama (2006); Emmet Gowin (2013); and Mariposas Nocturnas: Moths of Central and South America, A Study in Beauty and Diversity (2017).
Emmet Gowin's work has been widely exhibited in the U.S. and abroad and was the subject of a mid-career retrospective organized by the Philadelphia Art Museum (1990-1993); a comprehensive exhibition organized by the Yale University Art Gallery (2002-2004); and a major retrospective which opened at Fundación Mapfre, Madrid, Spain in 2013, and traveled to the United States and The Netherlands.
Emmet Gowin's work is collected by public institutions worldwide including the Art Institute of Chicago; Cleveland Museum of Art; J. Paul Getty Museum, Los Angeles, CA; Maison Européenne de la Photographie, Paris; Metropolitan Museum of Art, New York; The Museum of Modern Art, New York; Philadelphia Museum of Art; Tokyo Museum of Art; Yale University Art Gallery, New Haven, CT; and the Center for Creative Photography at the University of Arizona, Tucson.