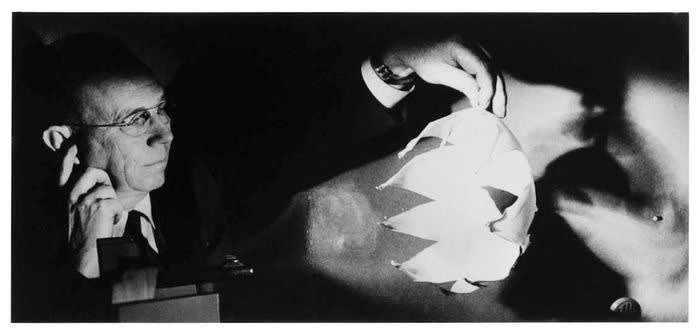 With his development of the electronic stroboscope, Dr. Harold "Doc" Edgerton (1903-1990) set into motion a lifelong course of innovation centered on a single idea, making the invisible visible. An inveterate problem-solver, Edgerton succeeded in photographing phenomena that were too bright or too dim or moved too quickly or too slowly to be captured with traditional photography.
In the early days of his career, Edgerton's subjects were motors, running water and drops splashing, bats and hummingbirds in flight, golfers and footballers in motion, his children at play. By the time of his death at the age of 86, Edgerton had developed dozens of practical applications for stroboscopy, some that would influence the course of history.
The strides that Edgerton made in night aerial photography during World War II were instrumental to the success of the Normandy invasion and, for his contribution to the war effort, Doc was awarded the Medal of Freedom. During the Cold War, Edgerton and his partners at EG&G made it possible to document nuclear explosions, an advance of incalculable scientific significance. In the last three decades of his life, Edgerton concentrated on sonar and underwater photography, illuminating the depths of the ocean for undersea explorers such as Jacques Cousteau, who dubbed his good friend "Papa Flash." Edgerton accompanied Cousteau on numerous expeditions and designing devices for underwater photography. National Geographic used many of Edgerton's photographs as illustrations for its articles, and published a number of articles by Edgerton himself.
Doc's genius for revealing slices of time to the naked eye also engaged the public imagination. In part, this had to do with his astute choice of subject matter: Mickey Rooney and Judy Garland, the acrobats of the Moscow Circus, British tennis star Gussie Moran. However, Doc's most famous study -- and possibly his favorite -- the milk-drop coronet, transcended its simple subject. The image, formed by the splash of a drop of milk, not only introduced the poetry of physics into popular culture, but also forever altered the visual vocabulary of photography and science.
Edgerton's photographs are in the permanent collections of prominent museums, including The Museum of Modern Art in New York and the Victoria and Albert Museum in London.
One of photography's true pioneers, Dr. Harold Edgerton literally stopped time in its tracks with his invention of the strobe. For the first time we were able to see the wonderful arc of the golf swing or the innate beauty of the 'crown' as a droplet hits a pool of milk.

His influence is still felt today, as we still use his invention in contemporary flash cameras, although their size has somewhat changed. Many journalists, photographers, scientists, inventors, industrialists and naturalists have all paid tribute to him for altering the way we look at the world and for controlling and explaining its unseen happenings.
Courtesy the Massachusetts Institute of Technology exhibition, Flashes of Inspiration at http://web.mit.edu/museum/exhibits/flashes1.html and Michael Hoppen Gallery, London
Photograph: Edgerton's Self-Portrait with Balloon and Bullet, 1959
©1992 The Harold E. Edgerton Trust