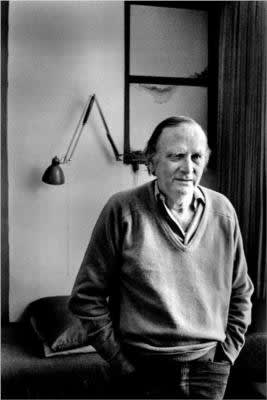 Frederick Sommer, by Bill Jay
In an influential career that spanned seven decades, Frederick Sommer created paintings, drawings, and collages, composed musical scores and created an influential body of work in photography. Sommer was born in Angri, Italy but raised in Brazil. In 1925, he traveled to Cornell University to study landscape architecture, where he met and married Frances Watson. In 1930, Sommer was diagnosed with tuberculosis. His confinement and recuperation in Switzerland led to a program of reading in art and philosophy, and an interest in photography. Eventually the Sommers returned to the United States, later settling in Prescott, Arizona. In 1939, Sommer became an American citizen.
In 1936, Sommer met Edward Weston and they became close friends. Inspired by Weston's example, Sommer purchased an 8 x 10 Century Universal view camera in 1938. He began making a series of close-ups of still-lifes of chicken heads (discarded by his butcher), entrails and other dead animals. Subsequently he purchased a longer focal length lens for this camera allowing him to photograph distant landscapes.
Throughout the 40s, Sommer pursued painting, drawing and photography. He began a series of landscape views of the Arizona desert where he isolated the austere Arizona hillsides and reduced them to abstract patterns. Sommer intentionally created flattened landscapes that lacked a single focal point, calling into question photography's objectivity and suggesting a new way of seeing. Sommer was drawn to the subtle range of gray tones achievable with silver gelatin prints and the practice of contact printing. At an exhibition of his work in Los Angeles, Sommer met Man Ray and Max Ernst, who were living in Los Angeles. Over the years, Sommer collected scraps of billboard posters, children's toys, pieces of torn wallpaper and fragments of rusted metal. By 1946, he was making photographs from these found objects, which he assembled into Surrealist collages. The collages often required considerable handwork in the negatives.
In the 1950s, Sommer developed a process of painting on glass to create cameraless negatives and began experimenting with a Leica 35 mm camera. Later he experimented with processes such as cliché verre, painting on cellophane and smoke on foil. He would paint in oil or deposit smoke from a candle onto a transparent surface and then place it in an enlarger to create negatives of his abstract compositions. Designed only for use as negatives, he often destroyed these transparent paintings after making a satisfactory print. In 1962, he began to make his first cut paper photographs.
In the 1950s, Sommer's reputation grew, aided by friends such as Ernst, Aaron Siskind, Edward Steichen and Minor White who brought his work to the attention of important photography venues such as The Museum of Modern Art, the Institute of Design, Chicago and Aperture magazine. Sommer also had an active teaching career. In 1957, he was appointed a lecturer in photography at the Institute of Design, a one-year replacement position for Harry Callahan. He also taught at Prescott College for several years until 1971. Sommer continued to experiment in the years that followed, producing work in a variety of media until the year before his death in 1999.
Frederick Sommer's legacy lives on at the Frederick and Frances Sommer Foundation, the Center for Creative Photography, as well several museums including, the J. Paul Getty Museum and The Museum of Modern Art.
Sources: Dr. Douglas R. Nickel, Director Center for Creative Photography, Tucson, Lecture 2005, the J. Paul Getty Museum, the Frederick and Frances Sommer Foundation.