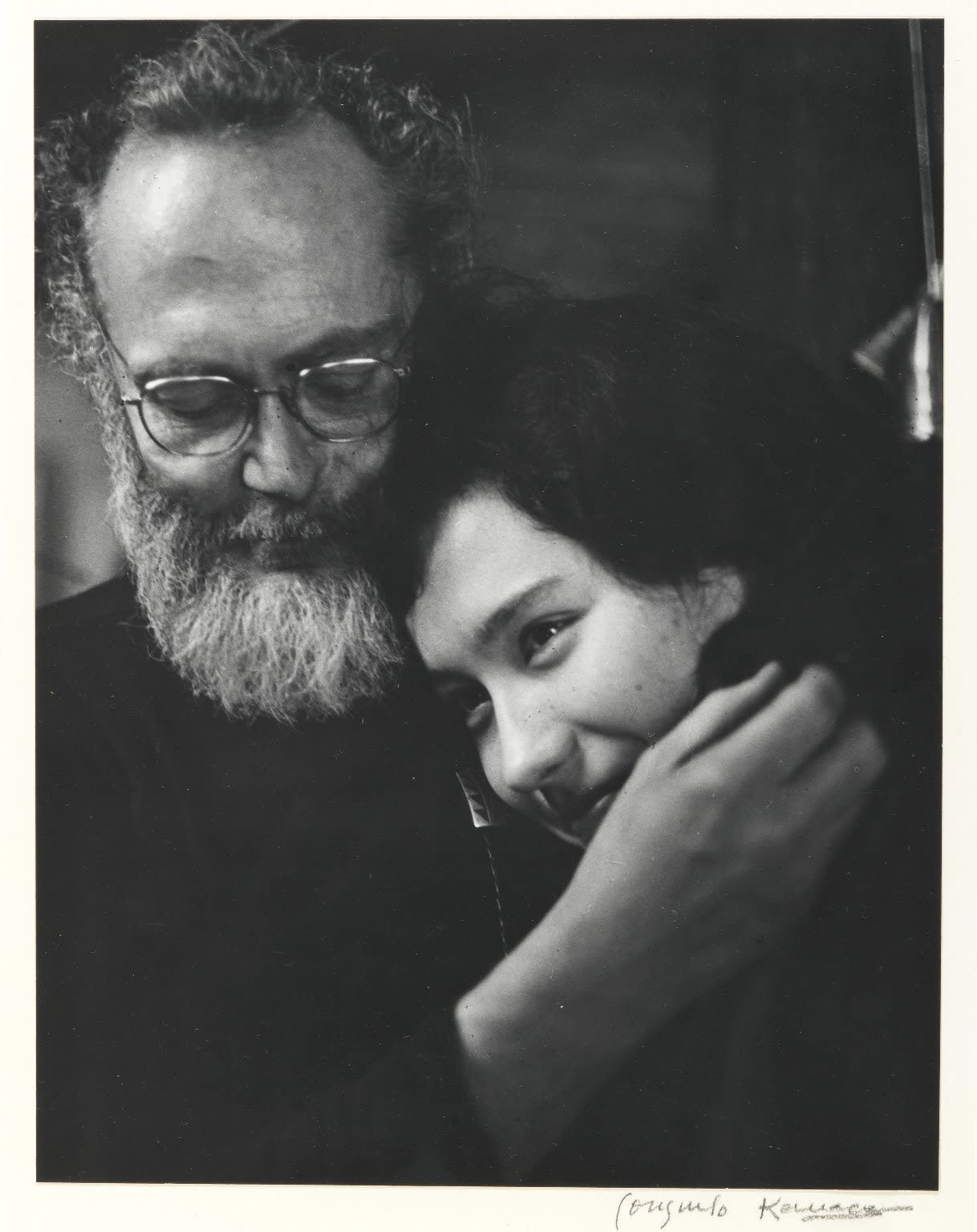 Smith and wife Aileen, 1974, Consuelo Kanaga
William Eugene Smith (December 30, 1918 - October 15, 1978) was an American photojournalist. He has been described as "perhaps the single most important American photographer in the development of the editorial photo essay." His major photo essays include World War II photographs, the visual stories of an American country doctor and a nurse midwife, the clinic of Albert Schweitzer in French Equatorial Africa, the city of Pittsburgh, and the pollution which damaged the health of the residents of Minamata in Japan. His 1948 series, Country Doctor, photographed for Life, is now recognized as "the first extended editorial photo story".

Life and early work
William Eugene Smith was born in Wichita, Kansas, on December 30, 1918, to William H. Smith and his wife Nettie (née Lee). Growing up, Smith had become fascinated by flying and aviation. When Smith was 13, he asked his mother for money to buy photographs of airplanes. His mother instead lent him her camera and encouraged him to visit a local airfield to take his own photos. When he returned with his exposed film, she developed the pictures for him in her own improvised darkroom.

By the time he was a teenager, photography had become his passion; he photographed sports activities at Cathedral High School and at the age of 15 his sports photos were published by Vigil Cay, sports editor at the Wichita Press. On July 25, 1934, The New York Times published a photo by Smith of the Arkansas River dried up into a plate of mud, evidence of the extreme weather events that were devastating the Midwest. These weather conditions had a disastrous effect on agriculture. Smith's father, who was a grain dealer, saw his business head towards bankruptcy and he committed suicide.

Smith graduated from the Wichita North High School in 1936. His mother used her Catholic church connections to enable Smith to obtain a photography scholarship which helped to fund his tuition at Notre Dame University, but at the age of 18 he abruptly quit university and moved to New York City. By 1938 he had begun to work for Newsweek where he became known for his perfectionism and thorny personality. Smith was eventually fired from Newsweek; he later explained Newsweek wanted him to work with larger format negatives but he refused to abandon the 35 mm Contax camera he preferred to work with. Smith began to work for Life magazine in 1939, quickly building a strong relationship with then picture editor Wilson Hicks.
...
Jazz Loft Project
In 1957, Smith left his wife Carmen and their four children in Croton-on-Hudson and moved into a loft space in at 821 Sixth Avenue in Midtown Manhattan which he shared with David X. Young, Dick Cary, and Hall Overton. Smith laid down an intricate network of microphones and obsessively took photographs and recorded jazz musicians playing in the loft space, including Thelonious Monk, Zoot Sims and Rahsaan Roland Kirk. From 1957 to 1965, Smith made approximately 4,000 hours of recordings on 1,740 reel to reel tapes and nearly 40,000 photographs in the loft building in Manhattan's wholesale flower district. The tapes also contain recorded street noise in the flower district, late-night radio talk shows, telephone calls, television and radio news programs, and random loft dialogues among musicians, artists, and other Smith friends and associates. The Jazz Loft Project, devoted to preserving and cataloging the works of Smith, is directed by Sam Stephenson at the Center for Documentary Studies at Duke University, in co-operation with the Center for Creative Photography at the University of Arizona and the Smith estate.

In August 1970, at the age of 51, Smith met Aileen Sprague, who would later become his wife. She served as a translator for Smith when he was interviewed in a Fujifilm commercial. Aileen was the daughter of a Japanese mother and an American father, raised in Tokyo before they moved to the United States when she was 11. At the time of meeting Smith she was 20 years old and went to Stanford University. Only a week after meeting, Smith asked her to become his assistant and live with him in New York. Aileen agreed, dropped out of university and began living with Smith.
...
Move to Arizona and death
Smith returned from his stay in Minamata, Japan, in November 1974, and, after completing the Minamata book, he moved to a studio in New York City with a new partner, Sherry Suris. Smith's friends were alarmed by his deteriorating health and arranged for him to join the teaching faculty of the Art Department and Department of Journalism at the University of Arizona. Smith and Suris moved to Tucson, Arizona in November 1977. On December 23, 1977, Smith suffered a massive stroke, but made a partial recovery and continued to teach and organize his archive. Smith suffered a second stroke and died on October 15, 1978. He was cremated and his ashes interred in Crum Elbow Rural Cemetery, Hyde Park, New York.

...
This biography is from Wikipedia under an Attribution-ShareAlike Creative Commons License. If you notice any errors or problems, please let us know.