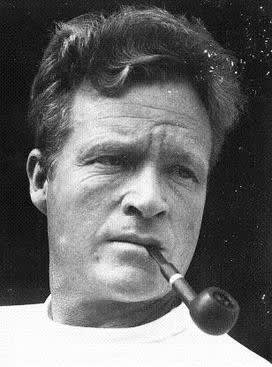 Brett Weston, by Dody Weston Thompson
Brett Weston (1911–1993) was born in Los Angeles, the second son of Edward Weston, and perhaps artistically the closest of the four Weston boys to their photographer father. In 1925, Edward removed Brett from school so the thirteen year old could become his apprentice in Mexico City. Surrounded by revolutionary artists of the day, such as José Clemente Orozco, José David Alfaro Siqueros, Jean Charlot, and Diego Rivera, Brett began making photographs with his father's small Graflex 3¼ by 4¼ inch camera.
Early exposure to modern art impacted Weston's sense of form and composition, and his early images of natural and man-made subjects reveal a strong sense of design. He appreciated how the camera transformed close-up subjects, with photography's black-and-white tones further obscured an object's appearance. This tendency toward abstraction characterized much of his work throughout his nearly seventy-year career. Although he acknowledged the artistic influence his father had on his work, and spoke of his admiration for other photographers including Paul Strand, Charles Sheeler, and Henri Cartier-Bresson, Weston believed non-photographic artists impacted his work more. He proclaimed Georgia O'Keeffe to be the greatest American painter and admired Die Blaue Vier (the Blue Four), a group of Russian and German Expressionists known for the vibrant color and emotion in their paintings. He was also moved by Constantin Brancusi and Henry Moore's sculptures, and Weston carved wood from an early age. He was also deeply influenced by music and dance.
Returning to California in 1926, Brett continued to assist his father in his Glendale portrait studio while exhibiting and selling his own photographs. A group of eighteen prints were included in the German show Film und Foto—considered one of the most important avant-garde exhibitions held between the two World Wars—when Weston was just seventeen. This recognition brought him international attention and inclusion in numerous exhibitions. In 1929, Brett and Edward moved to Carmel, California, where the Weston family, including Brett's three brothers, would maintain homes for the rest of their lives. At various times, Brett Weston also lived in Los Angeles, where he had his own studio and portrait business, and in New York, where he was stationed in the army. He later traveled extensively on personal photographic trips to South America, Europe, Japan, Alaska, and Hawaii. Following a 1947 Guggenheim fellowship, during which he photographed along the East Coast, he returned to Carmel to assist his ailing father and pursue his fine art work, including wood sculpture that related to his own photographs.
Beginning in 1938, Weston produced a series of portfolios, grouping together sets of his photographs for sale and distribution. Over the course of his career, he would create a total of fourteen portfolios, ranging from between ten and twenty prints apiece. Between 1950 and 1980, Brett Weston's style changed sharply and was characterized by bold, abstract imagery. The subjects he chose were, for the most part, not unlike the nature studies that interested him early in his career: plant leaves, knotted roots, and tangled kelp. He concentrated mostly on close-ups and abstracted details, but his prints reflected a preference for strong contrast that reduced his subjects to pure graphic form. In the late 1970s and 1980s, Weston spent much of his time on the Big Island in Hawaii. Brett Weston died in Kona, Hawaii, in 1993.
Brett Weston's photographs are in the permanent collections of several museums, among them: The Museum of Modern Art, New York; Getty Museum, Malibu, Los Angeles County Museum of Art; San Francisco Museum of Modern Art, Museum of Fine Arts, Houston and the Center for Creative Photography, Tucson, among others.