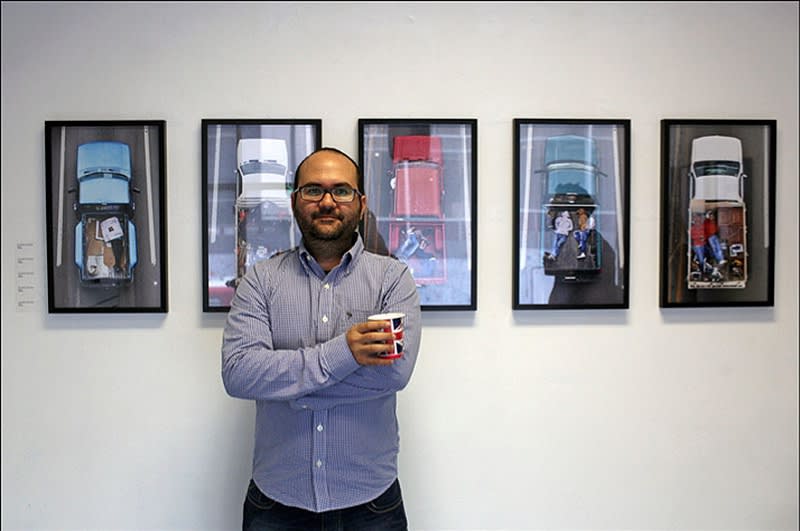 Alejandro Cartagena, Mexican (b. 1977, Santo Domingo, Dominican Republic) lives and works in Monterrey, Mexico. His projects employ landscape and portraiture as a means to examine social, urban and environmental issues. Cartagena's work has been exhibited internationally in more than 50 group and individual exhibitions in spaces including the the Fondation Cartier pour l'art contemporain in Paris and the CCCB in Barcelona, and his work is in the collections of several museums including the San Francisco MOMA, the Museum of Contemporary Photography in Chicago, the Portland Museum of Art, The West Collection, the Coppel collection, the FEMSA collection, Museum of Fine Arts in Houston, the George Eastman House and the Santa Barbara Museum of Art and among others.
Alejandro is a self publisher and co-editor and has created several award wining titles including Santa Barbara Shame on US, Skinnerboox, 2017, A Guide to Infrastructure and Corruption, The velvet Cell, 2017, Rivers of Power, Newwer, 2016, Santa Barbara return Jobs to US, Skinnerboox, 2016, Headshots, Self-published, 2015, Before the War, Self-published, 2015, Carpoolers, Self-published with support of FONCA Grant, 2014, Suburbia Mexicana, Daylight/ Photolucida 2010. Some of his books are in the Yale University Library, the Tate Britain, and the 10×10 Photobooks/MFH Houston book collections among others.
Cartagena has received several awards including the international Photolucida Critical Mass Book Award, the Street Photography Award in London Photo Festival, the Lente Latino Award in Chile, the Premio IILA-FotoGrafia Award in Rome and the Salon de la Fotografia of Fototeca de Nuevo Leon in Mexico among others. He has been named an International Discoveries of the FotoFest festival, a FOAM magazine TALENT and an Emerging photographer of PDN magazine. He has also been a finalist for the Aperture Portfolio Award and has been nominated for the Santa Fe Photography Prize, the Prix Pictet Prize, the Photoespaña Descubrimientos Award and the FOAM Paul Huff Award. His work has been published internationally in magazines and newspapers such as Newsweek, Nowness, Domus, the Financial Times, The New York Times, Le Monde, Stern, PDN, The New Yorker, and Wallpaper among others.