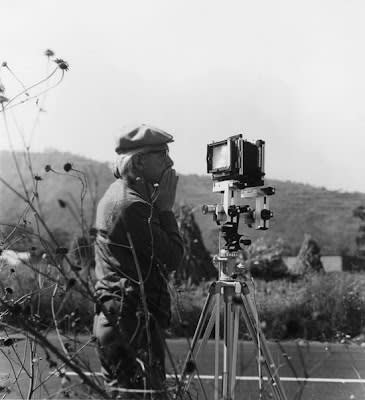 Considered Mexico's greatest photographer, Manuel Alvarez Bravo is best known for the longevity of a career that defined Mexican modernism. Bravo came of age in the period following the Mexican Revolution, which inaugurated a cultural search for a unique national identity. Bravo's contribution was to create deceptively simple photographs that fused the vocabulary of European modernism with a celebration of everyday life in Mexico infused with mysticism and sensuality.
Manuel Alvarez Bravo was born in Mexico City on February 4, 1902. His grandfather (a painter) and his father, were both amateur photographers. Bravo purchased his first camera at age twenty and gained dark room experience working for German photographer, Hugo Brehme (1882-1954). Initially, Bravo embraced Pictorialism, but with the advent of cubism, he began to investigate the possibilities of straight photography. Bravo learned about European modernist photography, and practitioners as varied as Albert Renger Patzsch, Henri Cartier-Bresson, Tina Modotti and Edward Weston primarily through magazines. In 1927, he met Modotti who introduced him to the Mexican avant-garde muralists, Diego Rivera, David Alfaro Siqueiros, and José Clemente Orozco. They infused the vocabulary of European modernism with the search for an authentic Mexican identity rooted in socialist ideals. When Tina Modotti was deported from Mexico in 1930, Bravo took over her position as photographer for the magazine Mexican Folkways and frequently traveled through the countryside documenting customs, festivities, and folklore.
During the 1920s and 1930s, Bravo captured the complex cultural shifts and radical political changes taking place in Mexico, photographing the street scenes, signs, and storefronts of Mexico City. Photographs of vernacular subjects were imbued with a mystical symbolism that must also be read for their political significance. One of his most famous photographs, Striking Worker, Assassinated (1934) makes overt social commentary on the tumultuous period.
Bravo 's photographs caught the attention of European Surrealists and André Breton, who commissioned an image for the cover of a catalog that accompanied a Surrealist exhibition at Galería de Arte Méxicano. This commission produced Good Reputation Sleeping (1938), which features a naked woman lying on the sidewalk, surrounded by prickly star cacti. (The images was not used due to its front nudity.) The model's upper thighs, hips, waist, and feet are wrapped in bandages, exposing her pudendum. Over the years, Good Reputation Sleeping has become a visual short hand for Bravo's career with its allusions to sexuality, the unconscious, and the lack of free will.
While well- known in Europe, Bravo's work was not recognized in the United States until later in his career. A meeting with American photographer, Edward Weston (1886-1958), led to an exhibition at the Berkeley Art Museum with Weston, Imogen Cunningham (1883-1976) and Dorothea Lange (1895-1965). A few years later, Bravo met photographers Paul Strand (1890-1976) and Henri Cartier-Bresson (1908-2004). Bravo exhibited with Cartier–Bresson in 1934 at the Palace of Fine Arts in Mexico City. In 1935, the two exhibited again with Walker Evans (1903-1975) in an important exhibition at the Julien Levy Gallery, titled Documentary and Anti-Graphic Photographs. After this early notice, Bravo remained relatively anonymous in the United States until a 1971 exhibition at the Pasadena Art Museum in California, which later passed through New York's Museum of Modern Art. Subsequent exhibitions at the Corcoran Gallery of Art in Washington D.C. (1978) and San Diego's Museum of Photographic Arts (1990) helped his reputation. However, not until his place in the history of photography was secured his consecration was assured when he returned to the MOMA in 1997 for the definitive exhibit of 175 photographs.
In his lifetime Bravo participated in over 300 exhibitions at galleries and museums all over the world. In 1997 The Museum of Modern Art held a major retrospecitive exhibition featuring photographs from a career of almost 80 years, including his color photography and platinum printing from the 1960s and 1970s. Bravo continued making pictures through the 1990s. In 2002, he died at the age of 100.
Manuel Bravo's work is in museum collections around the world, including The Museum of Modern Art, the San Francisco Museum of Modern Art, the Metropolitan Museum of Art, the J. Paul Getty Museum, the Victoria and Albert Museum, Bibliothèque Nationale de France, Museo de Arte Moderno, Mexico City, the George Eastman House, the Center for Creative Photography, and many others.
Sources:
the J. Paul Getty Museum, the Walker Art Center, The Museum of Modern Art, The Metropolitan Museum of Art, The New York Times, and Asociación Manuel Álvarez Bravo, Manuel "Bravo: Ironizing Mexico" by John Mraz http://www.zonezero.com/magazine/articles/mraz/alvarezb.html