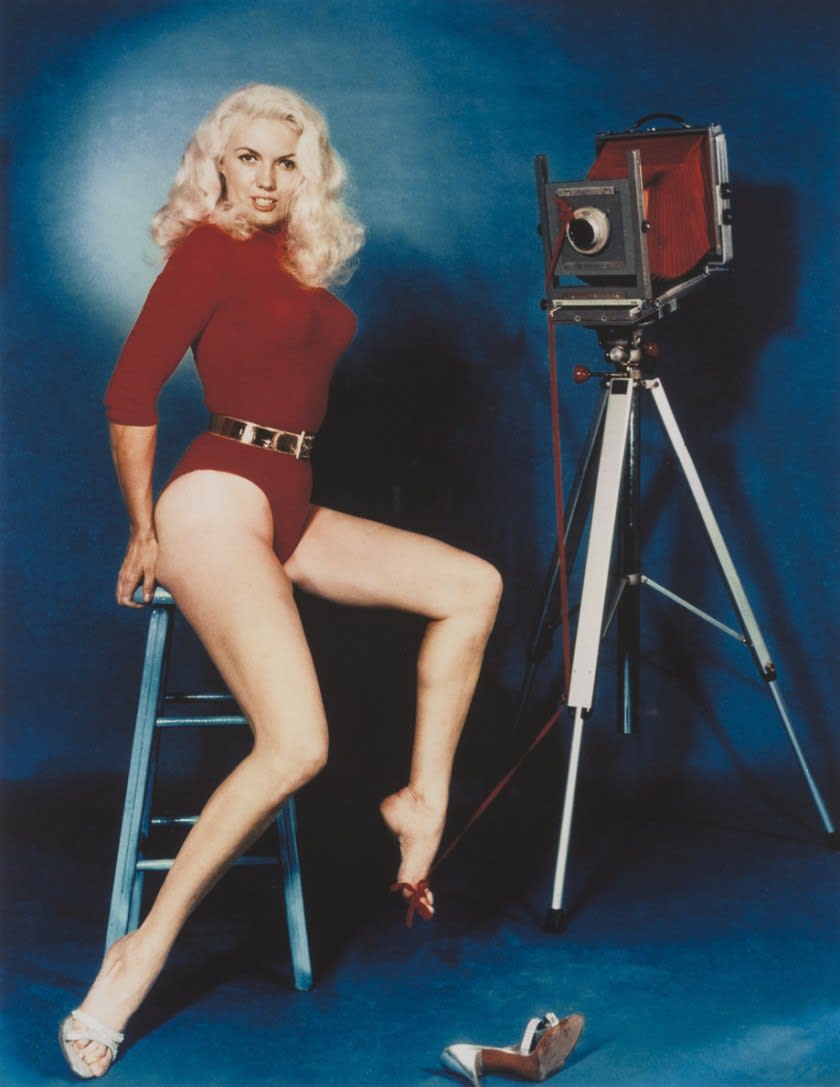 Linnea Eleanor Yeager was born to Raymond and Linnea Sherlin Yeager on March 13, 1929 in Wilkinsburg, Pennsylvania (a suburb of Pittsburgh). When she was 17, she moved with her family to Miami, where she underwent a startling transformation to overcome her shyness. She began calling herself 'Bunny' after Lana Turner's character in the 1945 film Week-End at the Waldorf, and began entering beauty pageants, eventually becoming "Queen of Miami" and "Ms. Personality of Miami Beach." As a struggling model, she needed to keep expenses down, and so she became a photographer out of economic necessity so she could produce her own portfolio prints. However, in a later interview with Rogue magazine, Ms. Yeager claimed, "I took up photography because I'm a frustrated painter who was never good enough to be the best, and photography is the closest thing to being an artist." Her early influences were glamour photographer luminaries Andre de Dienes and Peter Gowland. Her self-portraits - the first of what is now referred to as 'the selfie' - were achieved with either a self-timer or strategically placed shutter cord and became an effective marketing tool.

After learning the fundamentals of photography in night school, Ms. Yeager sold her first photograph - of model Bettie Page posing with cheetahs - to the men's publication Eye. She then photographed a model as 'a suitless Santa' and sold the print to Playboy for $100. Ever the pragmatist, Ms. Yeager cultivated an ongoing association with Playboy, for which she shot several centerfolds, because, as she explained, "They paid more than anybody else." Throughout the 1950s and '60s, Ms. Yeager became one of the foremost pin-up photographers, and her nudes have been credited for elevating erotic images into "high photographic art." She controlled every aspect of her photo shoots, even often making the bikinis her pin-up models wore. During her long career, Ms. Yeager experimented with several types of cameras including a 4 X 5" Speed Graphic press camera and a Rolleiflex (fitted with the Zeiss Tessar 75 mm f/3.5 lens) , which she preferred for black-and-white photography. For her Playboy centerfolds, she used an 8 X 10" Burke & James camera. Ms. Yeager understood her male audience well, and she conveyed female sexuality through light, using a combination of both a flash and Miami sunshine to create luminous and provocative images. When erotic photography became more explicit in the early 1970s, Bunny Yeager and her pin-ups faded into obscurity.

Widowed twice and the mother of two daughters, Ms. Yeager enjoyed a twenty-first century resurgence with a 2010 exhibit of her of her self-portraits at the Andy Warhol Museum in Pittsburgh. Her work was also featured at Fort Lauderdale's Museum of Art in a 2013 exhibit entitled, "Bunny Yeager: Both Sides of the Camera." Her books include How I Photograph Myself (1964), Bunny Yeager's Flirts of the Fifties (2007), Bunny Yeager's Bouffant Beauties (2009), and Bunny Yeager's Beautiful Backsides (2012). Linnea "Bunny" Yeager died in her beloved Miami on May 25, 2014 at the age of 85.